Database Utilities
SQL Tips
A small selection. of database SQL tips (Update: 2020-06-17).
PdxEditor - a Database Desktop replacement for Paradox & dBase
& BDE tools
if you need to keep the dBase and Paradox table formats
You should benefit from the features of the PdxEditor and the selection of BDE tools.
Also, do look up the comparative PdxEditor feature matrix.
Most recent update: 18 July. 2022.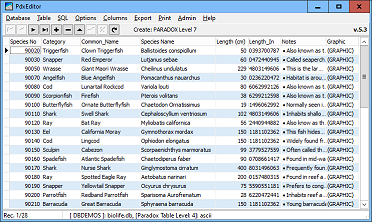 WebHelp recompiled Local SQL manual page.
See also
ClientDataSet and FdMemTable file utilities
AbsoluteSQL database vers. 3.4
- a next level SQL away from earlier age dBase & Paradox
As the BDE LocalSQL always has been somewhat restricted not including time functions as CURRENT_DATE, CURRENT_TIMESATMP, NOW, string function like LENGTH, conditionals as CASE, SELECT INTO statements, aggregation on EXTRACT values, nor handling SQL scripts, you probably will benefit from this next level SQL on your existing data stepping to AbsoluteSQL.
View online Application Manual and SQL Reference.
Most recent update: 5 Jun. 2022.